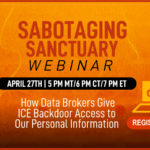 For years community members have raised concerns about how our personal information falls into the hands of Immigration Customs and Enforcement (ICE) — including when sanctuary policies are present. It has been confirmed that ICE uses technology to circumvent policies meant to limit their cooperation with local law enforcement. By contracting with data brokers, the corporations sharing and selling our personal data, ICE can obtain information on hundreds of millions of people across the country.
This morning we released a report titled Sabotaging Sanctuary: How Data Brokers Give ICE Backdoor Access to Colorado's Data and Jails. Also, check out this story in the Guardian.
ICE agents receive real-time alerts when people on its target lists are booked into county jails – facilitating ICE arrests and fueling the deportation machine. The report reveals disturbing conflicts of interest among Colorado law enforcement officials and signs of expansion into the privatization of policing.
GET INVOLVED!
Help share messages on social media using this toolkit
Join us at Sabotaging Sanctuary: Exposing ICE Surveillance in Colorado on Wednesday, April 27th at 5PM to learn more about how data brokers are providing ICE with backdoor access to Colorado residents personal information.
We know ICE is evolving rapidly and we need the protections in Colorado to evolve too. We are looking forward to continuing conversations with sheriffs, legislators and city officials to address the concerning findings and find solutions.
Contact Siena at siena@coloradoimmigrant.org with any questions or to get involved!
Watch April 21st Press Conference
Durante años, los miembros de la comunidad han expresado su preocupación sobre cómo nuestra información personal cae en manos del Servicio de Aduanas y Control de Inmigración (ICE, por sus siglas en inglés), incluso cuando existen políticas santuario. Se ha confirmado que ICE usa tecnología para eludir políticas destinadas a limitar su cooperación con las fuerzas del orden locales. Al contratar a corredores de datos, las corporaciones que comparten y venden nuestros datos personales, ICE puede obtener información sobre cientos de millones de personas en todo el país.
Esta mañana publicamos un informe titulado Santuario de sabotaje: cómo los agentes de datos dan acceso de puerta trasera a ICE a los datos y las cárceles de Colorado. (En inglés) Además, echa un vistazo a este artículo publicado en The Guardian. (En inglés)
Los agentes de ICE recibe alertas en tiempo real cuando las personas en sus listas de objetivos ingresan en las cárceles del condado, lo que facilita los arrestos de ICE y alimenta la máquina de deportación. El informe revela preocupantes conflictos de intereses entre los funcionarios encargados de hacer cumplir la ley de Colorado y signos de expansión hacia la privatización de la policía.
¡INVOLUCRASÉ!
Ayude a compartir mensajes en las redes sociales usando este kit de herramientas
Únase a nosotros en Sabotaging Sanctuary: Exponiendo la vigilancia de ICE en Colorado el miércoles 27 de abril a las 5 p. m. MT