Godson Beaugelin of The Lambi Fund of Haiti will present on the organization's long-time work in Haiti, how it has changed since the January 2010 earthquake, and share testimonial video footage of earthquake survivors reviewing the work the Lambi Fund is doing in Haiti.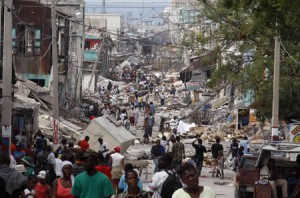 Thursday February 17
7:00-9:00PM
Denver Justice & Peace Committee
at Highlands United Methodist Church Fellowship Hall
3131 Osceola Street, Denver 80212
(corner of 32nd and Osceola)
Free parking is available in the lot east of the building as well as along the street.
Enter through the door located on Osceola Street.
Website: www.denjustpeace.org | Phone: 303-623-1463 | E-mail:djpc@denjustpeace.org