Today, on the 12th anniversary of the 2009 coup in Honduras. Lucha para Honduras Libre and Denver Justice & Peace Committee want to thank you for your calls and emails to Congresswoman Diana DeGette who has taken the lead by being the first Colorado congressperson to sign the Berta Cáceres Human Rights in Honduras Act (HR-1574). We applaud her understanding of Honduras and her compassion for the people of Honduras, many of whom continue to flee the violence and corruption in their country.
Join us on Today at 7:30 pm for our next phone zap to ask our representatives to co-sponsor three bills that will stop military assistance and promote human rights in Honduras.
Berta Cáceres Human Rights Act H.R. 1945
Honduras Human Rights & Anti-Corruption Bill (introduced in the House) H.R. 2716
Honduras Human Rights & Anti-Corruption Bill (introduced in the Senate) S.388
Our collective efforts are taking effect, lets continue building solidarity with the peoples of Honduras.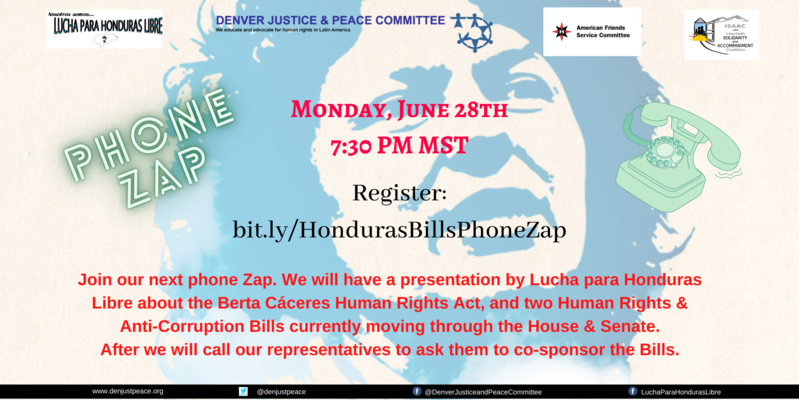 Hoy, en el 12 aniversario del golpe de estado del 2009 en Honduras. Lucha para Honduras Libre y el Comité de Justicia y Paz de Denver quieren agradecer sus llamadas y correos electrónicos a la congresista Diana DeGette, quien ha tomado el liderazgo al ser la primera congresista de Colorado en firmar la Ley de Derechos Humanos de Berta Cáceres en Honduras. Aplaudimos su comprensión sobre la situación de Honduras y su compasión por el pueblo de hondureño, muchos de los cuales siguen huyendo de la violencia y la corrupción en su país.
Únete a nosotros esta noche a las 7:30 p.m. para pedirle a nuestros representantes que copatrocinen los tres proyectos de ley que detendrán la asistencia militar y promoverán los derechos humanos en Honduras.
Berta Cáceres Human Rights Act H.R. 1945
Honduras Human Rights & Anti-Corruption Bill (introduced in the House) H.R. 2716
Honduras Human Rights & Anti-Corruption Bill (introduced in the Senate) S.388
Nuestros esfuerzos colectivos están siendo efectivos, continuemos solidarizandonos con el pueblo hondureño.
Regístrate aquí