Thank you to our Builders  & Supporters!
DJPC would like to thank our great team of builders, Lynn Farquhar, Connie Curtis, Steve & Gloria Piper, James Chaney and Rebeca Zúniga-Hamlin for coming out on Saturday May 21 to Build for Peace. The worked at Fa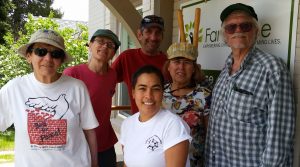 mily Tree House of Hope, a shelter for women and their children affected by intimate partner violence.  Their work and service made a difference in some lives in Denver. DJPC work can continue thanks to the community that pledge for our builders. We can now continue to Educate and Advocate for Human Rights in Latin America. If you have not pledge yet, go to our donation button and pledge! Thank you for your generous contributions.