Informative events features interactive and stimulating discussions among people who are concerned about peace and justice in the world today. Formerly called Salon Discussion Series, that began with an exploration of the framework that Transitional Justice affords societies moving forward from a history of violence and genocide to a future of justice.
Upcoming

Forums:
Wednesday, January 29th 2020: "Chiapas Encuentro"

Come hear the social justice projects and stories of students from DU's Latinx Social Work Certificate Program from their December 2019 visit to Chiapas, Mexico.
DJPC will have a delegation travel to Chiapas, Mexico from June 14th to June 20th, 2020. If this trip is of interest to you, come learn more about the place and people that you can encounter when accompanying on this trip. More information will be provided at this event.
Wednesday, January 29th, 2020
6:00 – 8:00 pm.
1420 Ogden Street, Denver, CO, 80218.
Thank you to the AFSC for hosting!
Free parking on site, please disregard event parking sign.
This event is free and open to the public.
Dinner will be provided, so please RSVP to Lorena.Gaibor@du.edu
https://udenver.qualtrics.com/jfe/form/SV_4NIkC3bjtMXlSND
Thank you to the sponsorship of the University of Denver Latinx Social Work Certificate Program.
Ven a escuchar los testimonios de los estudiantes del Programa de certificación Latinx Trabajo Social de la Universidad de Denver que hicieron proyectos de justicia social en Chiapas, México en diciembre 2019.
DJPC está planificando una delegación a Chiapas, México en Junio del 14 al 20, 2020.
Si le interesa este viaje, venga a aprender más sobre el lugar y las personas que usted conocería si nos acompañas en este viaje. Tendremos más información sobre la delegación durante el foro.
Miércoles, 29 de enero del 2020
6:00 – 8:00 pm.
1420 Ogden Street, Denver, CO, 80218.
Gracias a AFSC por el patrocinio del espacio!
Hay estacionamiento gratis, por favor ignorar las señal de estacionamiento para eventos.
Este evento es gratis y abierto para el público.Habrá cena, por favor confirma su asistencia a Lorena.Gaibor@du.edu
Gracias por el patrocinio de la Universidad de Denver Programa de Certificado Latinx Trabajo Social
Past Forums:
Wednesday, September 25th: "Storming the Wall: Climate Change, Migration, and Homeland Security," with Todd Miller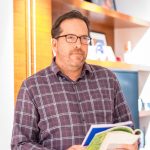 Todd Miller has traveled from Honduras to the Philippines to Paris to the U.S. Mexico borderlands to connect the dots between the changing climate, displacement, and a world of more and more border enforcement. He will share stories from those journeys, discuss how those dynamics are shaping life in the 21st century, and explore alternatives.
Thursday, May 2nd 2019: Waking up to the Suffering and Oppression of Others. A conversation with Father Roy Bourgeois.
Father Roy Bourgeois earned a BA in Geology before serving 4 years in the military, earning a purple heart in Vietnam. He subsequently joined the Catholic Church and served 40 years as a priest, including serving the poor in Bolivia and El Salvador. These experiences led him to found the School of the Americas Watch (SOAW), an organization seeking to close the what is now known as the Western Hemisphere Institute for Security Cooperation (WHINSEC) at Fort Benning, GA.
Father Roy has served a total of 4 years in prison for non-violent protest and he and SOAW were nominated for the Nobel Peace prize in 2010. In 2012, Father Roy was expelled from the priesthood for his public support to the ordination of women priests.
Few have accomplished and sacrificed as much to address suffering and oppression.In 1994, Father Roy received our Global Justice & Peace Award and look forward to hearing his experiences about how we can stand in solidarity with the people of Latin
America.
Watch the forum here: https://www.youtube.com/watch?v=cUA3kuckvUA&t=4380s
Wednesday, April 17th, 2019: What 's going on in Brazil?
A conversation with Brazilian specialists who discussed recent events taking place in Latin America's largest country. A nation that until recently was seen as an emerging economic powerhouse and democracy; now living one of its worst
crisis lead by its authoritarian regime.
Marco Cepik is a Professor of International Relations and Comparative Politics at the Federal University of Rio Grande do Sul. Brazil.
Rafael Ioris is a Associate Professor of Latin American
History at the University of Denver.
Aaron Schneider is Professor of International Studies and Associate Dean for Academic Affairs at Korbel School of International Studies at University of Denver.
Thursday, April 4th 2019. Mayan Responses to Top-Down Economic Development in Chiapas, Mexico.
Christine Eber and Bill Jungels shared some of their insights about responses to top-down economic development from their work in the highlands of Chiapas, with a focus on the township of San Pedro Chenalhó. Christine will focus on Maya weaving cooperatives as a means women have been using to gain greater economic autonomy and lift up their families and communities. Bill will focus on the struggle against government plans to build a "Sustainable Rural City" in Chenalhó as an example of successful resistance following the Zapatista uprising.
Christine is Professor Emerita of Anthropology at New Mexico State University and author of the recently released novel, When a Woman Rises, based on her ethnographic research in Chenalhó. She is co-founder of Weaving for Justice, a volunteer network of accompaniment for women's weaving co-ops in Chiapas which sells their work in the US through fair trade markets. www.weaving-for-justice.org
Bill Jungels is a documentary filmmaker focussing on Mexican social justice struggles seen from the base. He is Professor Emeritus at SUNY Fredonia. His latest documentary (co-produced with Christine Eber) is Maya Faces in a Smoking Mirror, about forms of Maya identity and resistance among young Maya women and men living in Chiapas. The film can be seen in Denver at the Xicanidie film festival. www.mayafaces.com
Wednesday, February 13th 2019: CUBA-U.S. Engagement Policy: TRUMPED!
In March 2016, Peter Kornbluh accompanied President Barack Obama on his history-making trip to Havana–a major step forward in a historic effort to normalize relations between the United States and Cuba. Washington and Havana were on course to change a long contentious history of perpetual hostility in bilateral relations. Since Donald Trump's election, however, his administration has taken steps to "recalibrate" the policy of peaceful coexistence and close the door on better relations in the future. This presentation will address key questions about Trump's recent new restrictions on travel and trade to Cuba and the debate over sustaining Obama's policy of positive engagement vs returning to the past era of punitive pressure in U.S. policy toward Cuba.
Watch the Forum here: https://www.youtube.com/watch?v=d1cUXKuM2p4
Bonus: Peter Kornbluh talk at the Latin America Center at the Korbel School of International Studies: https://www.youtube.com/watch?v=EIDxr2CTZxI&t=6s
Thursday, January 31st 2019: The Long Honduran Night with Dana Frank.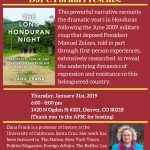 This powerful narrative recounts the dramatic years in Honduras following the June 2009 military coup that deposed President Manuel Zelaya. Dana Frank is a professor of history at the University of California, Santa Cruz.
To watch the Forum here: https://www.youtube.com/watch?v=L7yzS-V7bso
October 15th 2015 :"Struggles for Justice through Guatemalan Social Movements"
The Association for the Integral Development of Victims of the Violence in Verapaces, Maya Achí (ADIVIMA) has been at the forefront of representing the families of the Maya Achí peoples, survivors of genocide and grave violations of human rights during the civil war. To repair the fabric of society, ADIVIMA promotes actions to ensure the Guatemalan State guarantees access to justice and reparations to the families of survivors. Juan de Dios Garcia talks about their work.
To watch the presentation go to: https://www.youtube.com/watch?v=HD7TgmZ27G4
October 1st 2015: "Struggles for Justice: From Guatemala to Ayotzinapa"
As Guatemala´s fist female Attorney General, Dr. Paz y Paz Bailey prosecuted organized criminals and perpetrators of mass human rights abuses despite threats to her own safety. She was a 2013 nominee for the Nobel Peace Prize.
To watch the talk go to: https://www.youtube.com/watch?v=SJlw7cJXuw0&feature=youtu.be
In 2003, DJPC introduced Global Solutions to Violence (GSTV) a program  to teach students in local high schools and youth programs about issues related to peacemaking, nonviolence and globalization. The program curriculum explores conflict, thus creating the potential for a paradigm shift away from physical and economic violence. While DJPC no longer directly offers GSTV, we want to make the curriculum available to as many teachers and students as possible. Lesson plans can be accessed online and include printer friendly versions. Resources are presented in each lesson and an additional resource list is also offered. The lessons are available at no charge, however, we do hope that you will make a donation for the value received. Donations may be made to "DJPC Education Fund" and will be gratefully appreciated.