Mission: DJPC is a grassroots organization dedicated to promoting human rights, economic and environmental justice and lasting peace in Latin America through education, solidarity projects and nonviolent activism.
Goals: DJPC's current goals include putting a human face on poverty, human rights abuses and conflict in Latin America; increasing awareness of the ever-widening social and economic injustices in both the South and the North; promoting sustainable communities and nonviolence; and encouraging people to become proponents of social change.
History: MORE THAN 35 YEARS OF SOLIDARITY, 1976 – 2015!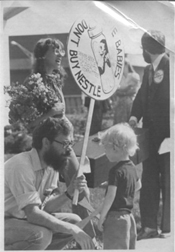 DJPC was founded in late 1976 in response to the National Catholic Bishops' Call to Action.  DJPC expanded and incorporated in 1979, as an interfaith membership-based organization addressing global injustice in developing countries. One of its first projects was participating in the international boycott of the Nestle Corporation for its unethical marketing of infant formula in the developing world (see photo). In 1984, DJPC supported a campaign against Western Airlines for its cooperation in the deportation of Salvadorans. Soon after that DJPC promoted a campaign to declare the City of Denver a sanctuary for Central American refugees. Through the rest of the decade and into the present, DJPC has continued to work in solidarity with the people of Latin America by sponsoring educational programs, lobbying elected officials, and promoting action campaigns. In 1996, when Guatemala signed the Peace Accords after years of genocide, DJPC began sponsorship of  individuals called "accompaniers" whose witness protection with the Mayan people continues to this day, through the national organization called NISGUA.