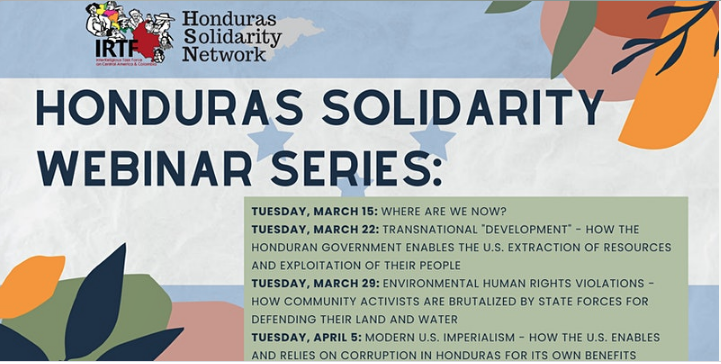 March 2, 2016 – Lenca Indigenous environmental defender Berta Cáceres was assassinated for standing in the way of a hydroelectric dam project. Six years later, those who defend land, air, and water are still repressed with state-sanctioned murders, disappearances, and illegal detention of activist leaders. Due to the work of activists on the ground in Honduras—joined by an international solidarity effort—the material author of Berta's killing was captured, found guilty, and will be sentenced in April. But most activists don't garner the international attention that Berta did. Activists across the Americas are victims of state surveillance, police brutality, and criminalization. This is why it's crucial for us to take solidarity actions with resistance movements fighting the oppressive forces of capitalism and imperialism.
In this 4-part Honduras Solidarity webinar series (March 15-April 5), we will be hearing from on-the-ground activists and experts to learn how oppression and corruption in Honduras are enabled by the U.S. and used to squash civil rights, and what we can do as members of the international solidarity community. Our way to fight back is to gain knowledge so we can better understand the struggles and our targets in the fight against oppression and imperialism!
Honduras Solidarity Webinar Series: Tuesdays:
March 15, 6 PM: Where are we now?  Register here!
March 22, 6 PM: Transnational "development" – How the Honduran government enables US extraction of resources and exploitation of their people. Register here!
March 29, 6 PM: Environmental Human Rights violations – How community activists are brutalized by state forces for defending their land and water. Register here!
April 5, 6 PM: Modern US imperialism – How the US enables and relies on corruption in Honduras for its own benefits. Register here!
All webinars will be conducted in English and Spanish with simultaneous interpretation via zoom.
You can find a more detailed description of the events and the registration link at https://www.irtfcleveland.org/calendar/hsn-and-irtf-honduras-solidarity-webinar-series