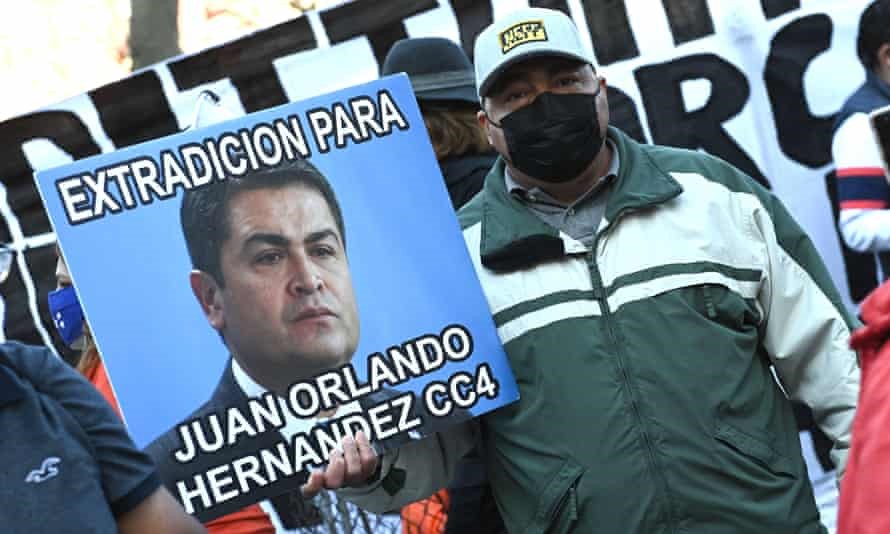 The United States has prepared drug-smuggling charges against recent Honduran president Juan Orlando Hernandez (JOH), and he was quickly arrested and prepared for extradition. The arrest marks a change in U.S. policy, consistent with the Biden administration's focus on what it calls the root causes of migration. The move comes on the heels of the historic 2021 electoral victory of Xiomara Castro, first woman president, leader of the LIBRE Party opposition to the dictatorship of JOH's Nationalist Party. Yet, for the Honduran people, the arrest is too little and too late, and misses an opportunity to undertake a more fundamental change in U.S. relations with Latin America.
In Honduras, the U.S. provided military aid and intelligence to the dictatorships that followed the coup of 2009, even supporting the corrupt election of JOH in 2013 and his fraudulent reelection in 2017. In the years since the coup, Honduras became the caricature of a neoliberal, narco-colony. High level officials have been indicted and convicted in the U.S. for drug smuggling, even as the Honduran state hands its assets to foreign investors, including constitutional authority over jurisdictions they call "Model Cities." The result for the Honduran people has been misery and violence, typified by the murder of environmental and indigenous activist, Bertha Caceres, on behalf of a Canadian mining corporation.
The election of Xiomara Castro breaks the 130-year hold on Honduran politics of the Nationalist and Liberal Parties, both of which supported the coup and continue to exercise significant power in the legislative and judicial branches. Popular movements opposed the coup from the start and finally brought Xiomara to power; it remains to be seen whether they can finally obtain peace, justice, and development.
The U.S. must do much more than arrest JOH. The U.S. needs to cut support to the Honduran military and police and shift away from its current focus on combating migration by encouraging mega infrastructure projects and large-scale investments. Such efforts will enrich foreign interests while displacing additional Hondurans. Instead, the U.S. should accept more migrants and make their journey safe and legal, switch support to the popular organizations building democracy, stand up to the corrupt old guard who continue to exercise power, and promote equitable and sustainable improvements in the lives of workers, peasants, women, and minoritized populations in Honduras.
As we continue in solidarity with the peoples of Honduras we request that you ask your representative to cosponsor the Berta Caceres Human Rights in Honduras Act H.R.1574  The bill calls for the suspension of U.S. military and police aid to Honduras until human rights violations committed by Honduran security forces cease, and their perpetrators are brought to justice.
E-mail your representative to ask them to cosponsor the Berta Caceres Human Rights in Honduras Act by clicking here. If your Representative is already a cosponsor, you can use the same Action Page to thank them.
The DJPC Team
February 22, 2022.