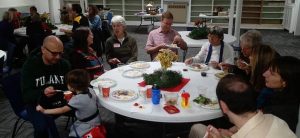 Join us for the spring DJPC potluck! This a great opportunity to share with our community of activist dedicated to educate and advocate for human rights in Latin America. Bring a dish, engage in a conversation about foreign affairs and peace building, and enjoy the company of fellow social justice-oriented folk. Bring your musical instruments!
Friday June 3rd, 2016

6:30 PM

3131 Osceola St. Denver. 80212
Únete a la fiesta de traje de DJPC, esta es una gran oportunidad para compartir con nuestra comunidad de activistas dedicados a educar y abogar por los derechos humanos en América Latina. Trae un plato, se parte de una conversación sobre asuntos internacionales y la construcción de la paz, disfruta de la compañía de compañerxs dedicados a la justicia social. Trae tus instrumentos musicales!