Rural Healthcare in Indigenous Guatemala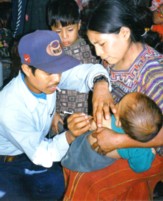 Photo courtesy of www.cprguatemalaproject.org
Domingo Alvarez Ajanel and Pedro Bernal Raymundo, indigenous Mayans and members of the lead health team, will share about the work they are doing as health promoters in their communities and the work Promesa is doing in Guatemala. Promesa is a partnership between the Denver Justice & Peace Committee and several other organizations that seeks to improve health and primary health care delivery in indigenous villages in rural Guatemala.
Thursday April 7
7:00-9:00PM
Denver Justice & Peace Committee
at Highlands United Methodist Church Fellowship Hall
3131 Osceola Street, Denver 80212
(corner of 32nd and Osceola)
Free parking is available in the lot east of the building as well as along the street.
Enter through the door located on Osceola Street.