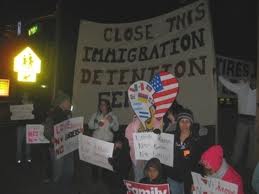 DJPC's 2011 Salon Discussion Series invites you to join us Thursday, January 20th from 7:00PM-9:00PM at Highlands United Methodist Church Fellowship Hall, 3131 Osceola Strreet, Denver, to discuss "How immigration detention centers embody the brokenness of our immigration system."
Jennifer Piper of the American Friends Service Committee will share her perspectives and facts on the immigrant detention system, its impact on Colorado, and what we can do to oppose it.
Free parking for Salons is available in the lot east of the building as well as along the street. Enter through the door located on Osceola Street.
Phone: (303) 623-1463 | E-mail: djpc@denjustpeace.org | Website: http://denjustpeace.org
Jan2011 Salon Flier–IMMIGRATION DETENTION